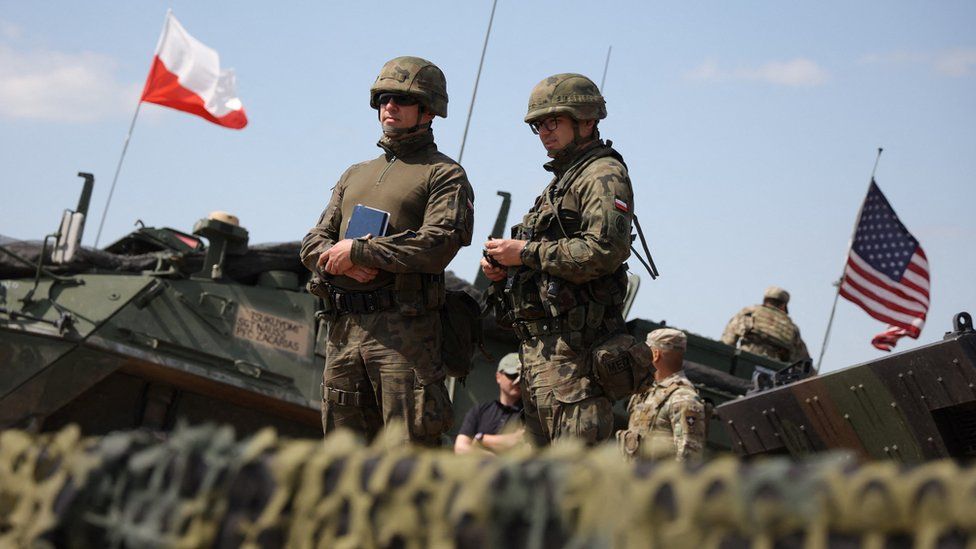 The US will increase its military presence across Europe in response to Russia's invasion of Ukraine, President Joe Biden has announced.
A permanent army headquarters will be created in Poland, while new US warships will go to Spain, fighter jets to the UK and ground troops to Romania.
Mr Biden said the US was "stepping up" and proving that Nato was "needed now more than it has ever been".
The announcement came as alliance leaders met at a summit in Madrid.
Mr Biden told the meeting that Nato would be "strengthened in all directions across every domain - land, air and sea".
The announcement sees the US shore up its presence across the continent but particularly in eastern Europe where the new permanent headquarters for its 5th Army Corps will be based.
Mr Biden repeated the alliance's commitment to "defend every inch" of its territory, saying: "We mean it when we say an attack against one is an attack against all."
At the summit Nato leaders agreed to accept the previously neutral Nordic states , with their membership needing to be ratified by the governments of all 30 Nato members.
Mr Biden said this was "exactly" what Russian President Vladimir Putin did not want and said his strategy of invading Ukraine had backfired.
Nato Secretary General Jens Stoltenberg said Finland and Sweden had been formally invited to join the military alliance, describing it as the "fastest accession process ever", and said he expected the swift progress to continue.
The two applicants must now show that they meet Nato's standards in politics, law, and in their armed forces - something which is expected to be relatively straightforward for the Nordic countries.
Mr Stoltenberg said Ukraine could continue to count on the alliance's assistance in the face of Russian aggression for "as long as it takes", adding that Ukraine was fighting for its independence but also for values shared by Nato.
He said member states had agreed a "comprehensive assistance package" for Ukraine, which included fuel, medical supplies, body armour, anti-drone systems and equipment to counter mines.


The US decision to permanently station some of its troops in Poland was greeted with near-universal acclaim.
President Andrzej Duda, in Madrid for the Nato summit, said "this is the decision we've been waiting for".
Poland has been warning the West about President Putin's threatening behaviour for years.
In 2018, Warsaw offered to pay up to $2bn (£1.65bn) to help fund a permanent US base in Poland and even offered to call it "Fort Trump" to appeal to the then-president.
However, President Biden's announcement does not mean that most of the 12,000 US troops currently in Poland - more than half of whom were deployed temporarily following Russia's invasion of Ukraine - will be permanently stationed here.
According to the Pentagon, such status will apply only to the US 5th Corps headquarters command post set up in Poznan in 2020, where around 200 staff conduct planning and oversee US land forces in Europe, as well as a new army garrison headquarters and a field support battalion.
Indeed, President Duda has said that an additional 300 US soldiers will be added to the US 5th Corps command in Poznan - so we're talking about 500 in total permanently stationed in Poland out of the 12,000.

The summit described a new guiding blueprint for the alliance which said that Russia was "the most significant and direct threat to Allies' security and to peace and stability in the Euro-Atlantic area".
It added that "we cannot discount the possibility of an attack against allies' sovereignty and territorial integrity".
Earlier, Russia's Deputy Foreign Minister Sergei Ryabkov described the expansion of Nato as "destabilising" and said it did not add to the security of members of the alliance, according to the Russian state news agency RIA.