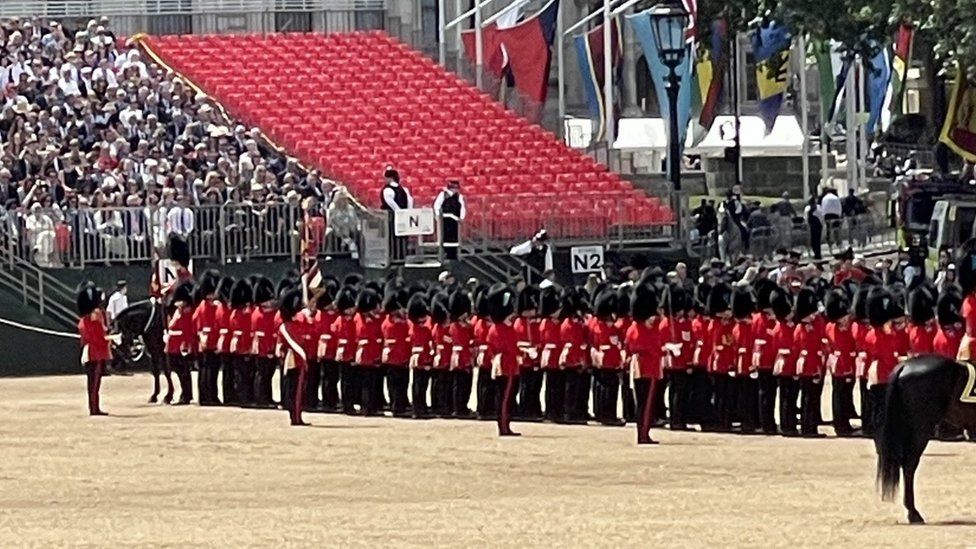 Two people have been taken to hospital after part of a stand collapsed at a Trooping the Colour event at Horse Guards Parade in central London.
Scaffolding holding the stand up is reported to have given way just before 11:00 BST.
London Ambulance Service (LAS) said two patients were taken to a major trauma unit as a priority.
The area has been evacuated by the Army and police so safety checks can be made.
Eyewitness have described seeing a woman fall through the stand, although LAS could not confirm this nor the severity of the injuries that were sustained.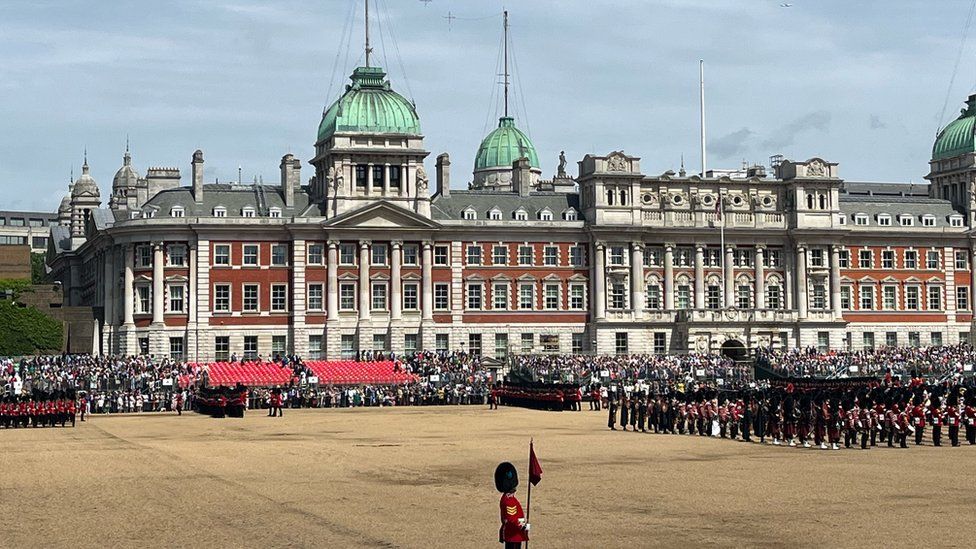 Marcus Dell, who was at the event, said he had heard screams.
"Everyone had stood for the National Anthem and there was a bit of a commotion. The first we heard was that one of floorboards had broken and someone had fallen through and hurt themselves.
"There was a lot of chatter in the stands and a few people did leave."
He added when the area was evacuated as a safety precaution, there was confusion however the "police did a good job of making sure of there wasn't any panic".
Paul Rogers, who was near the stand, said: "We heard a loud bang and a scream and a person shouting 'Help! Help'.
"A number of people climbed over the back wall and went below the section of stand that had broken. It lasted about 20 minutes.
"It just seemed like a small section of the stand went," Mr Rogers said.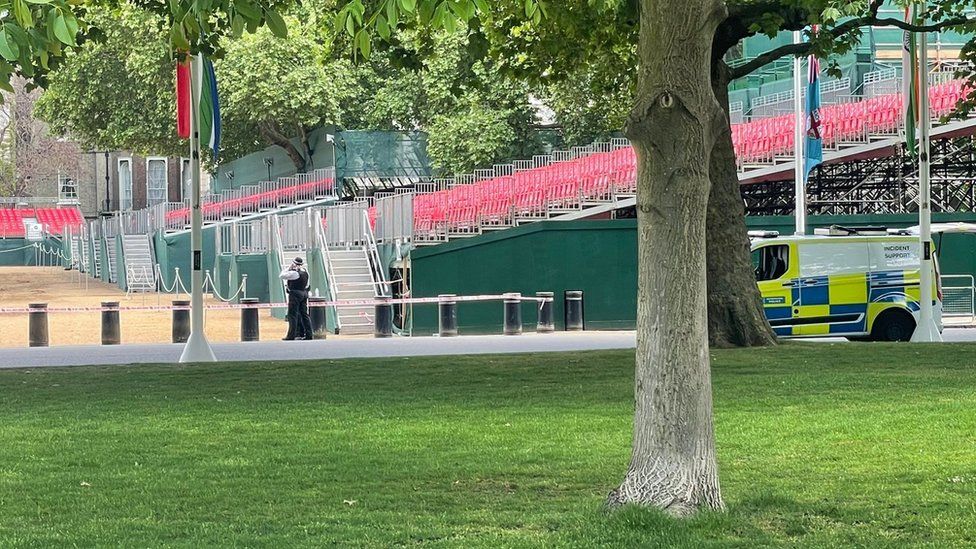 Up to 1,450 soldiers from the Household Division and the King's Troop Royal Horse Artillery were taking part in the parade, alongside about 400 musicians from the Massed Bands.
It is very similar to the Trooping the Colour event reviewed annually by the Queen - she is due to do so on 2 June as part of the Jubilee celebrations. Prince William is to review the troops next Saturday.
Earlier, the troops were being reviewed by Maj Gen Christopher Ghika of the Household Division.
An LAS spokesperson said: "We sent a tactical response unit, an ambulance crew, two cycle responders and an incident response officer.
"We worked alongside St John Ambulance volunteers to treat five people at the scene. We took one patient to a major trauma centre as a priority. St John Ambulance took a second patient to a major trauma centre as a priority. We discharged three patients at the scene."
One witness said the stands were evacuated one by one.
They added that the evacuation was "very well organised, not chaos as quoted by some".
An Army spokesperson said: "We are supporting the emergency services following an incident on the Horse Guards Parade square. It would be inappropriate to comment further at this time."

What is Trooping the Colour?