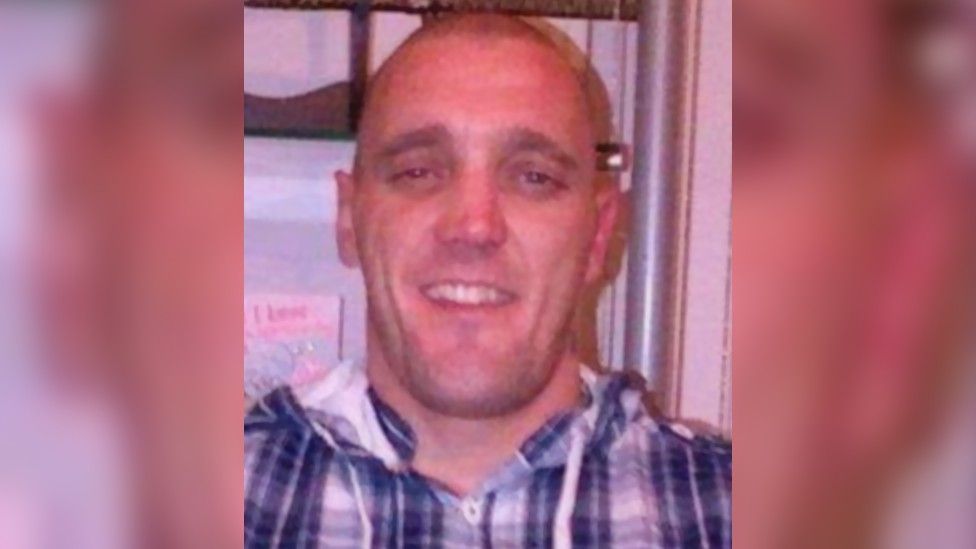 A gang leader and his second-in-command who left a vulnerable man whose home they had "cuckooed" to "bleed to death in his living room" have been jailed.
Leigh Smith, 48, was stabbed multiple times by Jacob Cookson, 18, and Logan Eaton, 17, at his assisted-living flat on Cook Street in Eccles in June 2021.
Manchester Minshull Street Crown Court heard was told they believed Mr Smith, whose home they had taken over, had set up an attack on Cookson.
They were both jailed for life.
The pair, who were found guilty following a trial, were handed minimum terms of 19 and 17 years respectively.
Another 17-year-old boy was found not guilty of Mr Smith's murder.
'Hardened criminal attitudes'
The court was told Mr Smith was targeted shortly after he moved into his flat.
He was said to have been "proud" of his new home and had begun to turn his life around after a period of drug addiction and homelessness, but his progress was undone when he came into contact with Cookson, of no fixed address, and Eaton, of Seddon Street, Little Hulton.
The court heard Cookson was assaulted by another man at Mr Smith's address on 16 June 2021 and mistakenly concluded the 48-year-old had set up the attack.
Five days later, Cookson and Eaton returned to Mr Smith's flat, armed with knives, to "teach him a lesson", prosecutors said.
The pair inflicted multiple wounds to Mr Smith, including one to his leg which severed a major artery and left him immobile, "before fleeing, leaving Leigh to bleed to death in his living room", Greater Manchester Police (GMP) said.
Mr Smith's body was found the following day by a neighbour.
Sentencing the pair and lifting reporting restrictions in regards to Eaton, Judge Alan Conrad QC said their thoughts had only been "for yourselves as you fled the scene and simply carried on with your drug supplying".
"I have come to the conclusion you are both youths who are experienced in crime with business acumen and hardened criminal attitudes, which show no sign of changing in the near future," he said.
He added that the pair were "both emotionally mature beyond your years" and Cookson "in particular... controlled, managed and manipulated a whole range of people with differing degrees of vulnerability".
In a statement read to the court, Mr Smith's mother Jackie Roycroft said the father-of-one had been a "funny, caring person" before his addiction took hold.
"It is no secret my son had made mistakes, but he was my son and he was still a human being," she said.
"To the people responsible for this - why?
"How could you leave him there bleeding to death? For what?"
'Shocking and disturbing'
Speaking outside the courthouse, Mr Smith's sister Emma Roycroft added that it had been an "extremely difficult and heart-breaking time for the whole family, including Leigh's younger daughter".
"To lose someone you love under such horrific circumstances is beyond comprehension for any adult, let alone a child," she said.
The Crown Prosecution Service (CPS) said Mr Smith had previously contacted his housing officer to report that he had been attacked.
The housing officer had called GMP, who went to his home twice to offer assistance, but while "it was obvious Leigh was concerned", he "refused any help", a spokeswoman said.
The CPS's Alan Pope added that the teenagers "took advantage of Leigh Smith's vulnerabilities by using him and his home for drug supply, then they carried out the brutal attack that lead to his death".
GMP's Det Ch Insp Ben Cottam said Mr Smith's murder had been "shocking and disturbing" and his killers had shown "little remorse for their actions".
He added that cuckooing was a "horrendous practice" that the force was "determined to crack down on".