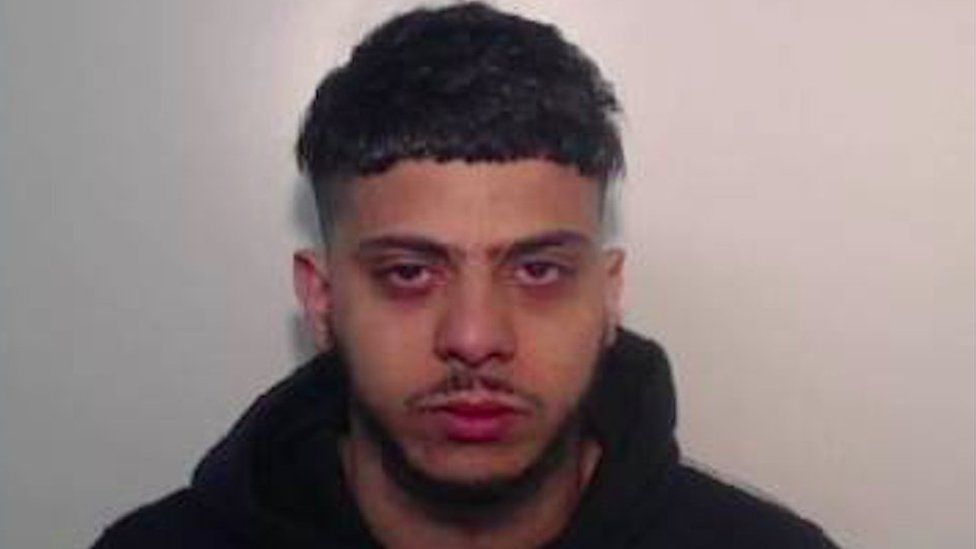 A man arrested during the Manchester Arena bombing investigation is on the run in Libya and wanted by police for his role in a drugs conspiracy.
Zuhir Nassrat, 23, was linked to two of the three chemicals used by the Abedi brothers to make the bomb that killed 22 people in May 2017.
He was arrested but not charged in relation to the attack. He denied playing any part in what happened.
Salman and Hashem Abedi were responsible for the bombing.
Three trials at Manchester Crown Court, the last of which ended earlier, have detailed the criminal activities of associates of the bombers.
In the final case, five men pleaded guilty to conspiracy to supply drugs, including cocaine, from January 2017 until December 2020.
Those convicted, all from south Manchester, are:
The first four have appeared in the evidence at the ongoing due to their links to the Abedi brothers or other suspects.
Sentencing will take place on a date to be fixed.
Shamsudin Khalifa, the only man to proceed to trial, was found not guilty earlier.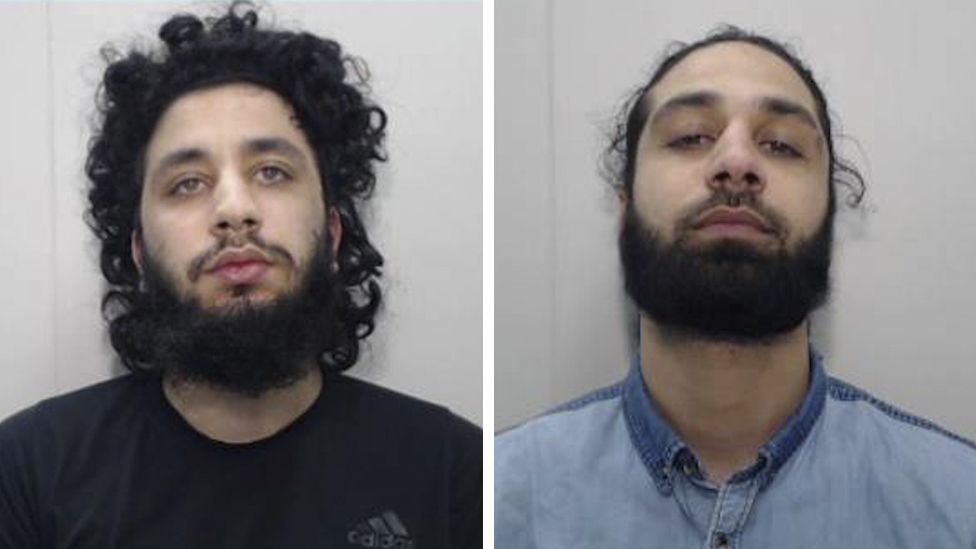 The final trial heard business cards were printed and spread around Manchester advertising named "drug lines", comprising phone numbers where people could order narcotics.
Neil Fryman, prosecuting, said police "haven't managed to catch up" with Nassrat and another man, but "from the evidence that's been collected it's clear they're involved".
Nassrat is understood to be in Libya.
The court heard that phones belonging to Nassrat and Abudaber were seized by police on 17 April 2017, more than a month before the bombing, from a crashed car on Wilmslow Road, Rusholme.
A mobile attributed to Nassrat was a "drug dealer's phone", jurors were told, showing the owner to be a "street runner directed by other persons to deliver the drugs".
It was only after the arena attack, and indeed after Nassrat had been questioned by police for two weeks, that officers found the phone had been used to search for one of the three chemicals needed to make the deadly explosive TATP.
The google searches had been deleted, but were forensically recovered from the phone.
Following the arena attack, Nassrat had been arrested and questioned about why his bank details were used in three unsuccessful attempts in March 2017 to purchase another chemical.
He had texted his home address to Hashem Abedi and photos of a bank card to Ebrahim Sadigh.
The first attempted purchase was traced to Nassrat's home.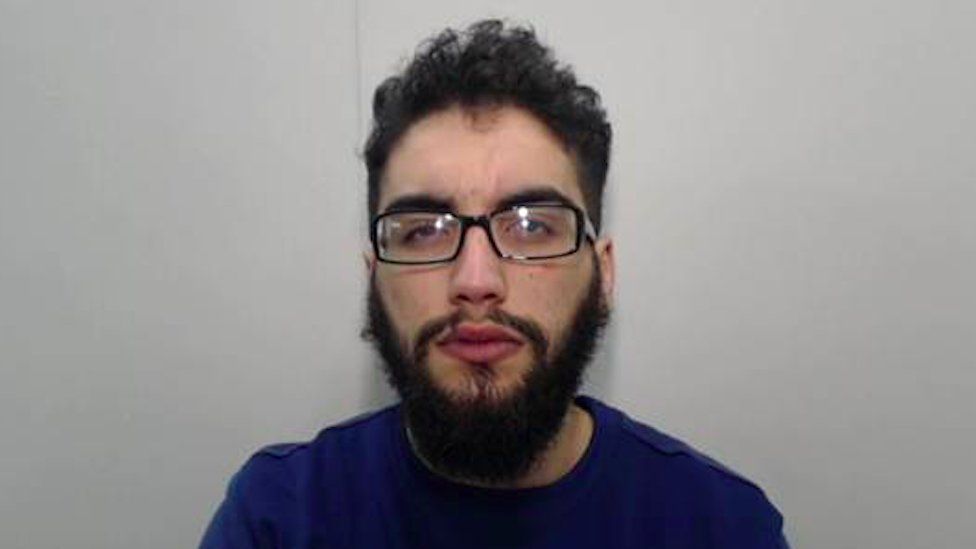 When Hashem Abedi made further attempted purchases of the chemical on Amazon, he used a wi-fi network at a room rented by Abudaber in Rusholme.
Nassrat was questioned again by counter-terror officers in 2019. He was not charged and left the UK soon afterwards.
Neither Ebrahim Sadigh nor Abudaber would provide witness statements to the arena bombing investigation, although both denied knowledge of the plot when first approached by officers after the atrocity.
Abudaber faced a separate trial in July last year, which can now be reported, after he was arrested in October 2019 following a high-speed car chase in south Manchester involving police cars, a helicopter, and the suspect driving over a "stinger" designed to burst his tyres.
After crashing, he fled on foot but was arrested by police. He had been carrying a loaded revolver, drugs, thousands in cash, and a baseball bat in the boot of his white Audi.
Abudaber pleaded guilty possessing the illegal items but denied having the gun with an "intent to endanger life". The jury acquitted him of this more serious charge.
"I had no intention of using the firearm whatsoever," he told jurors, adding he was given the gun to hold by a leading dealer whom he would not name.
"I was too scared to say no to him so I had to take it," he said.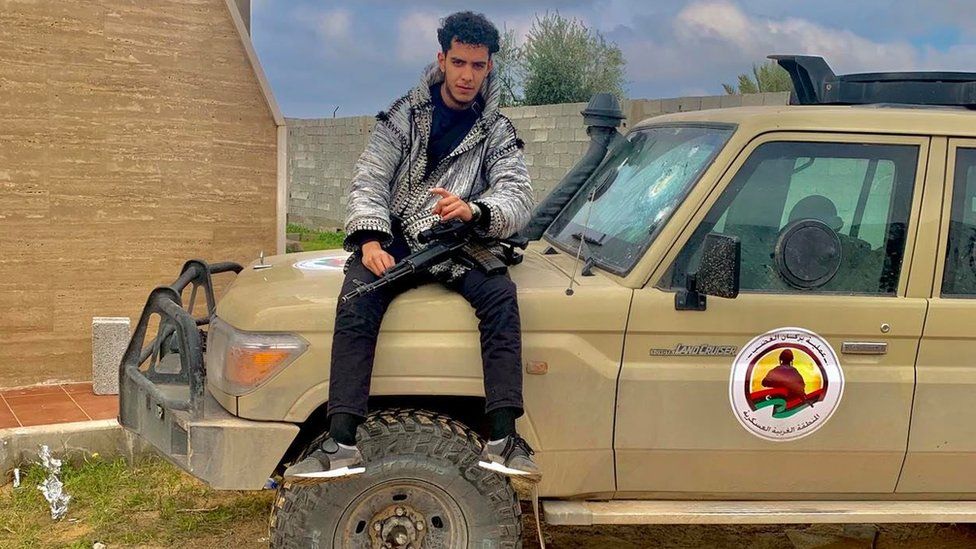 The recent drugs conspiracy prosecution is the second to emerge from the arena bombing investigation, showing the criminal context in which the Abedi brothers operated.
Both drugs trials fell under the same operation codename, which was a spin-off from the terrorism investigation.
The Abedis had stored explosives in a Nissan Micra purchased specifically to store the lethal material, which they parked outside a flat associated with a friend called Elyas Elmehdi while the brothers were in Libya.
On his arrival back in the UK on 18 May 2017, days before the attack, Salman Abedi went straight to the Micra in the car park of Devell House in Rusholme.
When officers raided the property a week after the bombing, they found that a separate vehicle close to the Micra had been used by Elmehdi and others to store drugs.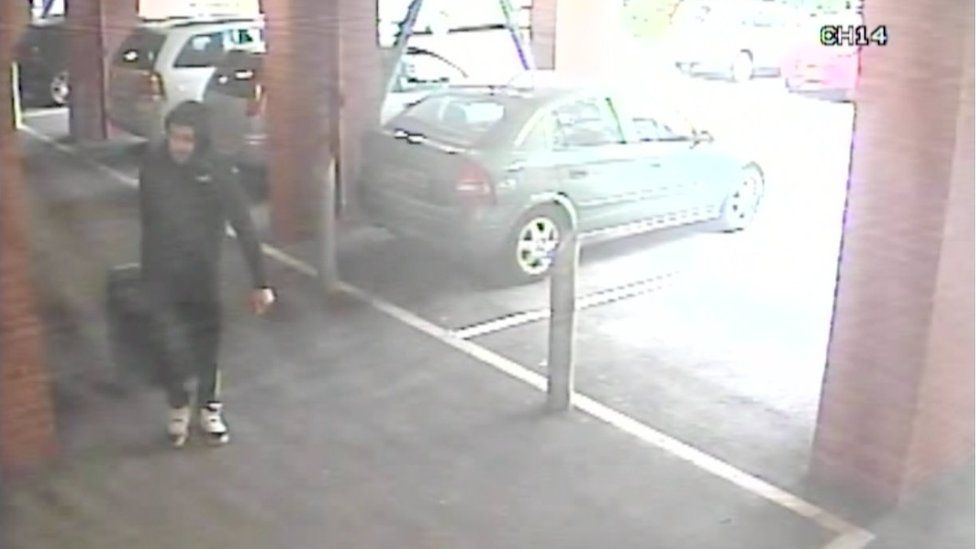 , despite remaining a suspect in the arena investigation, and was convicted and sentenced in his absence for his role in a conspiracy to supply cocaine and other drugs.
Mohammed Sadigh, convicted in the second drugs prosecution, had actually been arrested with Elmehdi five days before the arena attack while they were visiting the convicted terrorist Abdalraouf Abdallah in prison on Merseyside.
They had been attempting to pass over a bag containing tablets to the prisoner.
Elmehdi and another Sadigh brother had earlier accompanied Salman Abedi on a prison visit to Abdallah, who himself became s suspect in the bombing investigation due to his links to Abedi.