Without even a touch of the steering wheel, the electric car reverses autonomously into the recharging station.
I won't be plugging it in though, instead, the battery will be swapped for a fresh one, at this facility in Norway belonging to Chinese electric carmaker, Nio.
The technology is already widespread in China, but the new Power Swap Station, just south of Oslo, is Europe's first.
The company hopes that swapping-out the entire battery will appeal to customers worried about the range of electric cars, or who simply don't like queuing to recharge.
It was certainly straightforward to book a slot on Nio's app, and once inside the station, all I have to do is park on the designated markings and wait in the car.
I can hear bolts being undone as the battery is automatically removed from underneath the vehicle and replaced with a fully- charged one.
In less than five minutes, I'm ready to go again.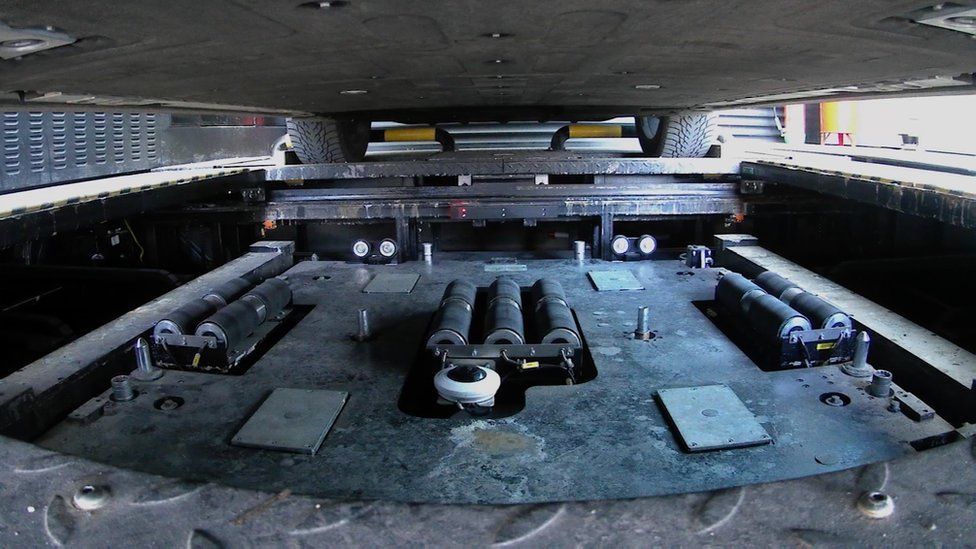 "You're not standing outside and taking 30 to 40 minutes [like you do when you recharge]. So it's more effective," says Espen Byrjall, Nio's power and operations manager in Norway.
"There's no battery degradation. You always get a healthy battery. So, you can keep the cars longer."
This station can handle up to 240 swaps a day, and the firm plans to create 20 here in Norway.
It's also partnered with energy giant Shell, to roll them out across Europe, with the aim of installing 1000 by 2025. "It's going to be a network that lets you drive all over Europe," says Mr Byrjall.
However, from Nio's flashy showroom in central Oslo, the firm is pursuing a rather different business model - where customers buy the car and lease the battery.
Marius Hayler, the firm's general manager for Norway and Denmark, says there are several advantages to this approach.
For a start, the customer is not buying the most expensive bit of an electric car - the battery. That knocks around £7,700 ($9,700) off the purchase price.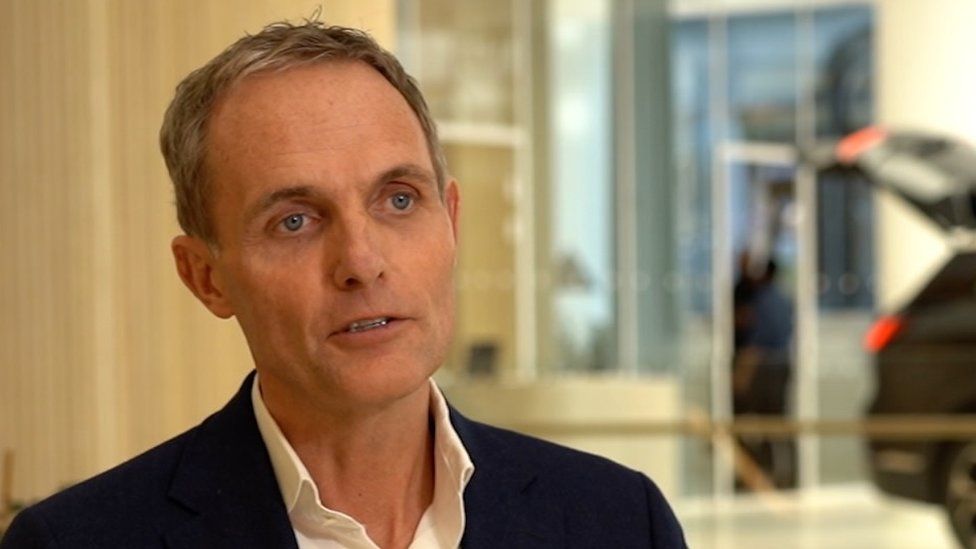 A buyer then has to factor-in the monthly subscription for the battery, which ranges from £120 to £215, depending on the size of the battery.
But with that cost comes another advantage. "You're always going to have the newest battery technology," explains Mr Hayler.
Nio is just one of the latest Chinese arrivals to enter Norway, along with other newcomers like Xpeng, Voyah, and Hongqi, ahead of wider European rollouts.
According to Norway's Road Traffic Information Council, 83% of all new cars sold from January to March this year were fully electric, while only 6% had diesel or petrol engines.
"Norway has been used as a test market for some time," says Oeyvind Solberg Thorsen, director of the Norwegian Road Federation lobby group.
"It's just obvious that the Chinese brands will come here. We have a very favourable set of incentives for electric cars."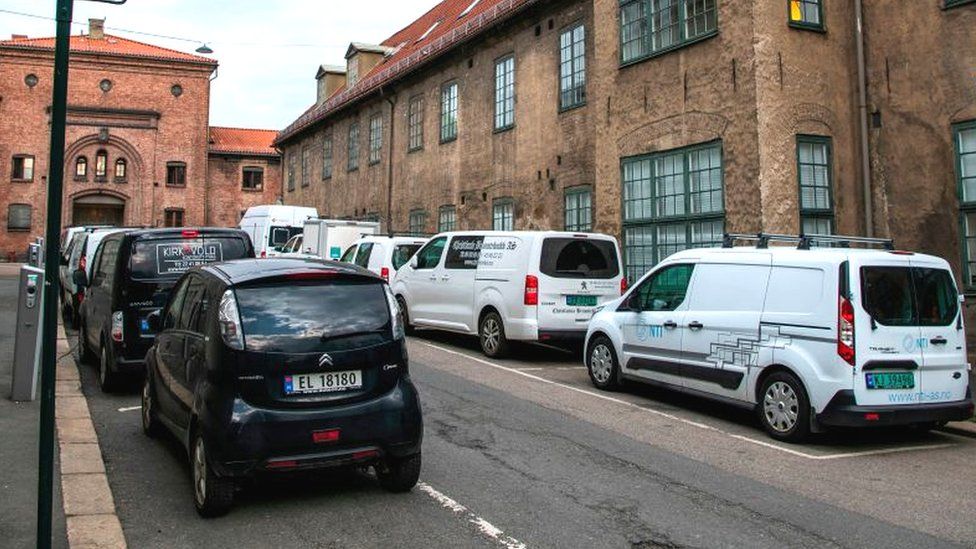 Low taxes on electric vehicles (EVs), widespread charging infrastructure and perks like exemption from tolls, access to bus lanes and free public parking, have all helped Norway achieve the highest rate of EV adoption in the world.
Backed by Chinese tech giant Tencent, Nio sold more than 90,000 cars last year, nearly all of them in China, where it already operates more than 800 battery swapping stations.
Sales in Norway are still in the hundreds, but the newcomer plans to enter Denmark, Sweden, Germany and the Netherlands this year.
Currently, the firm does not share its battery swapping stations with other carmakers but has suggested it would be open to other manufacturers harnessing the technology.
That might help popularise the system further so it really takes off in Europe.


Matthias Schmidt, an analyst from Schmidt Automotive Research, says that such a system could enable smaller and lighter batteries to be used, in turn helping to improve vehicle efficiency.
However, he's sceptical as to whether battery swaps will be widely adopted in Europe, as fast-charging points are becoming more common.
"The horse has likely already bolted," he says. "The rollout of a fast-charging network on motorways will be key going forward now."
But he thinks the technology could be effective for sectors like taxis: "Short downtimes [to recharge] are key for taxis and this could be ideal for the likes of them."
Although it's a difficult space to navigate, a decade ago, Israeli firm Better Place launched a similar innovation, but it failed to take off and the business went bankrupt. While, carmaker Tesla also piloted the concept but didn't pursue it.
Mr Hayler reckons the timing wasn't right for these firms, saying it was "too early".
Despite those early failures, other firms are readily employing a battery-swapping model.
Automakers Geely and Aion have recently launched their own systems in China, and battery manufacturer CATL has also developed a facility, called EVOGO.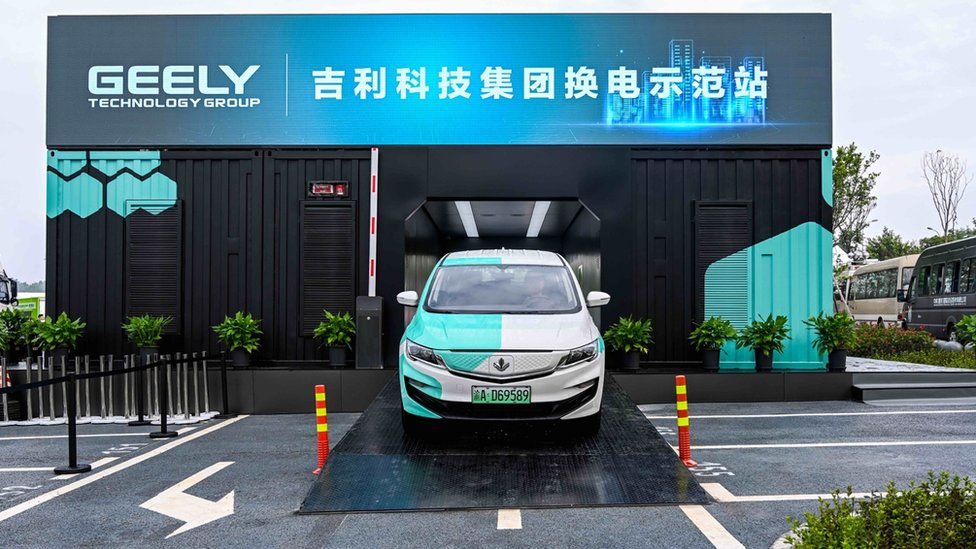 California start-up, Ample, is working on similar technology, and Honda, Yamaha and Piaggio are also teaming-up to offer switchable batteries for electric motorbikes and light vehicles.
Another benefit, swapping might greatly appeal to customers who can't easily charge their cars at night.
"In China there are more apartments than you see in Northern Europe. They use the power swap station primarily to recharge the car," says Mr Hayler.
In Europe, it's more common to have driveways where home-charging could be installed. So, the swap station might be used mostly to upgrade or downgrade the battery type, Mr Hayler explains. "But we will see."
Meanwhile, installing battery-swapping infrastructure remains more expensive than charge points. Some people suggest there may eventually be no need to swap batteries at all.
Every year chargers are getting faster and batteries are lasting longer: in April a Mercedes-Benz model drove 1,000km on a single charge.
And even Nio is not betting entirely on battery swaps, it's also supplying home chargers and installing superchargers on roads too.