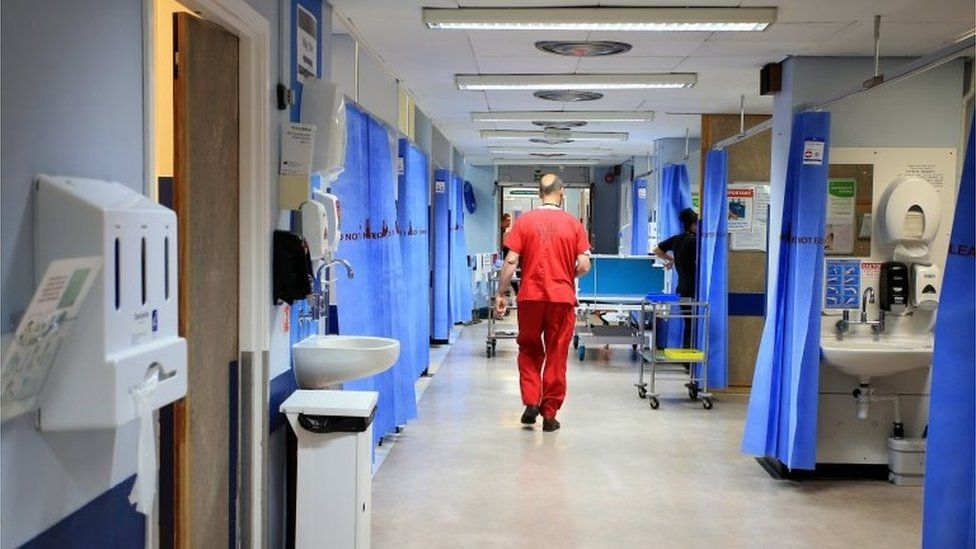 Doctors are calling for significant pay rises to make up for what they say amounts to a 30% pay cut since 2008.
Medics at the British Medical Association (BMA) annual conference said salaries had not kept up with inflation for more than a decade.
And they warned industrial action could be on the cards if the government does not act.
The government in England is due to make an announcement about this year's pay award soon.
The starting salary for junior doctors is currently just over £29,000. More experienced consultants who have been working in the health service for years can earn more than £100,000 a year.
The BMA has asked for an above inflation rise for this year.
But doctors attending the union's annual conference in Brighton said that should just be the start, with significant above inflation rises to continue. That would mean within five years that pay would be restored to the equivalent of what it was in 2008, they added.
"Pay restoration is the right, just and moral thing to do, but it is a significant demand and it won't be easy to win," said Dr Emma Runswick, whose motion demanding action was passed at the conference.
"It's likely that industrial action will be required to move the government on this issue."
'Doctors unable to afford mortgages'
And junior doctor Joanna May Sutton-Klein added: "It is outrageous that our pay has been cut by 30%.
"It is outrageous that doctors today are unable to afford mortgages and are delaying starting families due to falling pay.
"It is outrageous that our pay has been cut and it is sensible that we demand it back."
But it was not only junior doctors who were calling for action.
Dr Vishal Sharma, chair of the BMA's consultants committee, said: "Our members will no longer tolerate the government's woeful failure to reverse these cuts.
"Government inaction would be completely unacceptable in any circumstances, but is especially insulting when we consider the immense sacrifices made during the pandemic."
The BMA has already said if the government does not commit to restoring pay, it will begin preparations for a ballot of junior doctors in England for industrial action by early 2023 at the latest.
A full strike has not been ruled out, although even if that were to happen emergency care would still have to be provided.