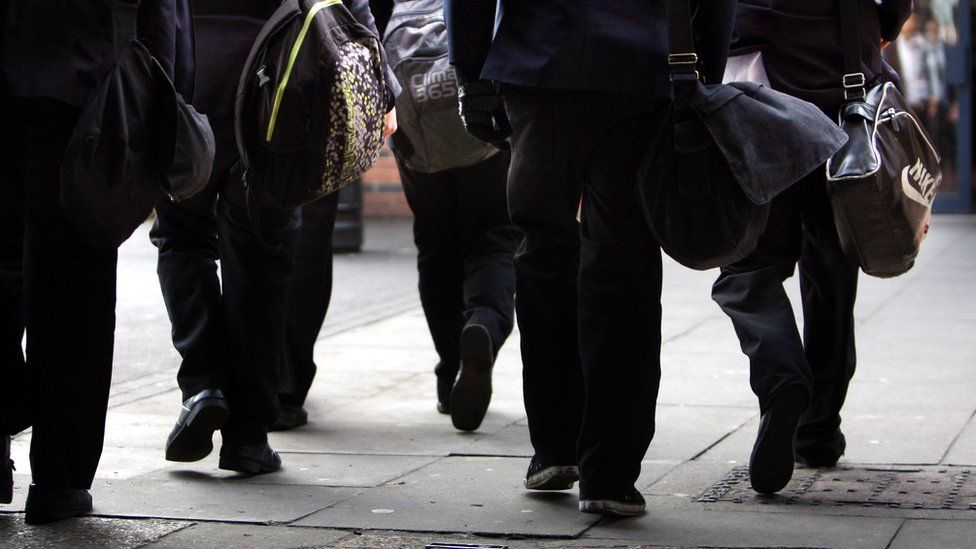 About a million children - one out of every eight pupils - were absent from schools in England last Thursday, as Covid cases rose.
The official figures also show staffing problems worsening, with a quarter of schools seeing teachers and leaders' absence rates above 15%.
Across England as a whole, about 9% of teachers were absent.
The government is loosening Covid restrictions in schools by no longer requiring pupils to wear masks.
Of the one million pupils (12.6%) absent, 415,000 were out of school for Covid-related reasons.
Also on 20 January, 47,000 teachers and school leaders were absent - 3,000 more than two weeks previously - half for Covid-related reasons.
National Association of Head Teachers general secretary Paul Whiteman said: "Covid absence figures for pupils are the worst they have been this academic year.
"Schools are struggling to keep things running, with nearly 10% of their staff off, on average - but for some, this is much higher.
"Our members are repeatedly telling us that they are having to drop everything to find cover and that just keeping things going is a challenge."
And this was putting huge pressure on pupils in exam years.
John Blaney assistant chief executive of BMAT Stem Academy - a university technical college in Harlow, Essex - said the general message seemed to be the pandemic was over "but on the ground in schools, that isn't the case, one of [our trust's] schools is currently operating with almost 50% of staff off isolating,"
It was "nigh on impossible to get supply teachers into schools," he told the Commons Education Committee on Tuesday morning.
"If we want to avoid such issues in the future, we need to have a long-term plan to get teachers back into the classroom," Mr Blaney added.
Meanwhile, Jo Cotton, chief executive of the NET Academies Trust, which runs six primary schools in Essex, said remote learning had led to "disjointed learning and inconsistent teaching".
Association of School and College Leaders general secretary Geoff Barton said: "The passing of the first two full weeks of the spring term have seen attendance deteriorate further in our schools, with even more students and staff away from the classroom.
"The government's unexpected announcement last week that face coverings are now no longer recommended in classrooms, and from Thursday in communal areas, reduced the defences available to schools to control the spread of Covid-19."