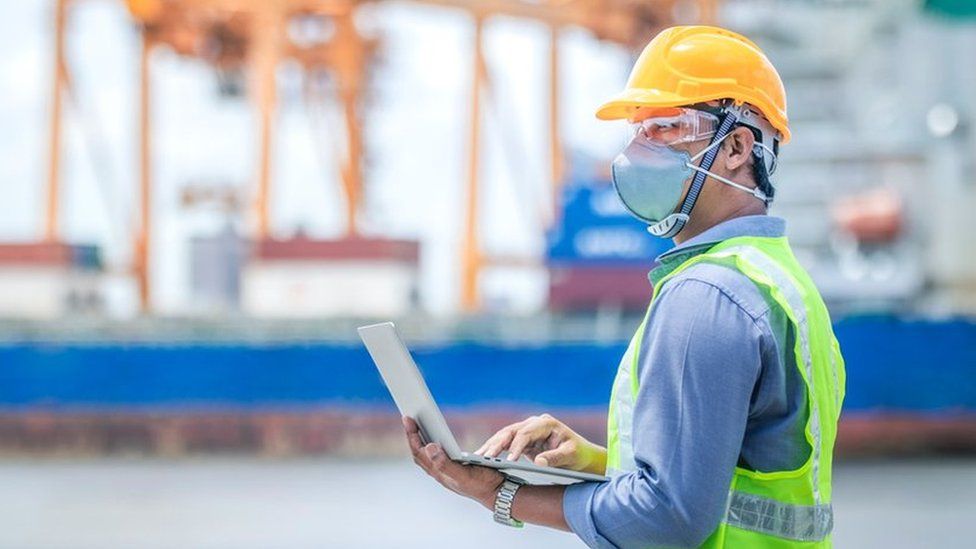 The UK economy will grow more slowly than expected this year as it recovers from the Covid pandemic, the International Monetary Fund has said.
The forecast for UK growth in 2022 has been cut to 4.7% from 5% in the IMF's latest world economic outlook.
However, this will be the fastest in the G7 industrialised nations, as it was last year.
It partly reflects a rebound from sharp falls the UK suffered during initial pandemic lockdowns two years ago.
At the same time, the IMF has sharply downgraded its forecasts for the two biggest global economies - the US and China - citing new Covid curbs and high energy prices among its reasons.
Overall, the IMF now expects global growth to go from 5.9% in 2021 to 4.4% in 2022, half a percentage point lower for this year than in its last prediction in October 2021.
"The global economy enters 2022 in a weaker position than previously expected," said the IMF report.
As the new Omicron Covid-19 variant spreads, countries have re-imposed restrictions.
"Rising energy prices and supply disruptions have resulted in higher and more broad-based inflation than anticipated, notably in the US and many emerging market and developing economies.
"And the ongoing retrenchment of China's real estate sector and slower-than-expected recovery of private consumption have limited growth prospects."
The IMF predicted that the higher levels of inflation currently seen in the global economy would go on for longer than it anticipated in its last forecast, persisting for most of 2022.
It said supply chain disruptions, energy price volatility and localised wage pressures meant that "uncertainty around inflation and policy paths" was high.
US economic growth for this year was downgraded by the IMF from 5.2% to 4% after it removed the effects of President Joe Biden's Build Back Better fiscal policy package from its calculations.
and is unlikely to be enacted in its present form.
China's forecast for 2022 was cut from 5.6% to 4.8%.
"In China, disruption in the housing sector has served as a prelude to a broader slowdown," the IMF report said.
"With a strict zero-Covid strategy leading to recurrent mobility restrictions and deteriorating prospects for construction sector employment, private consumption is likely to be lower than anticipated."
The IMF said the cut in expectations for global growth also reflected revisions among some other large emerging markets.
In particular, the two biggest Latin American economies, Brazil and Mexico, suffered the largest growth downgrades.
Brazil, where far-right President Jair Bolsonaro is seeking re-election later this year, is now expected to grow by just 0.3% in 2022, down from the previous forecast of 1.5%.
Mexico also saw a downgrade of 1.2 percentage points and is now predicted to see growth of 2.8%.