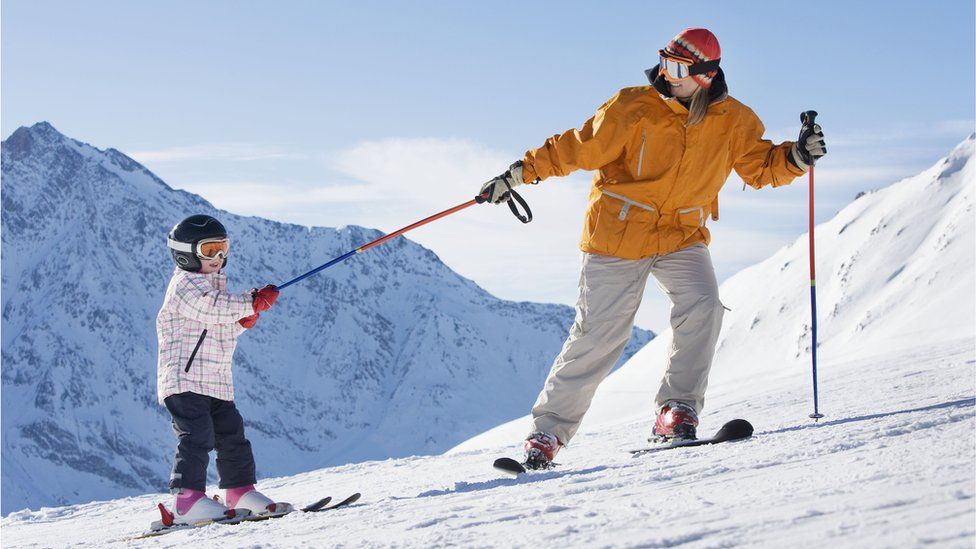 French holiday bookings have jumped after Paris said it would ease restrictions on UK travellers, travel firms have said.
Airline Jet2 said it had seen a "sharp" rise in bookings and searches for flights to French skiing destinations.
And Tour operator Tui said ski bookings doubled on Wednesday following reports the rules would change.
Many UK holidaymakers had to cancel holidays when France banned all but essential travel last month.
But from Friday, vaccinated Britons .
They will only need to present a negative Covid-19 test taken 24 hours before leaving the UK.
ABTA, which represents British travel agents, said the rule change was a relief for both holidaymakers and travel firms.
"Thousands of people head [to France] for ski breaks at this time of year, so this will be a huge relief for customers with holidays booked there for the next few weeks, who have been waiting anxiously for news," it said.
It added that the French government still had to give more details on entry requirements including the rules for children.
Jet2 boss Steve Heapy said the rule change was good news for the thousands of Britons who go on skiing trips to France during winter.
"This is the positive news that skiers and snowboarders have been looking forward to, and the spike in bookings for ski flights has been both sharp and immediate," he said.
Tui, which owns tour operator Crystal Ski Holidays, said bookings had been increasing in anticipation that the rules would be relaxed.
"Bookings to France doubled yesterday even before the announcement and we would expect to see another very positive uptick now it's official," said Chris Logan, managing director of Crystal Ski Holidays.
Brittany Ferries chief executive Christophe Mathieu said the rules relaxation "comes as a great relief", adding that "businesses in the travel sector have struggled to survive".
"Thousands of Brittany Ferries passengers have been disrupted and millions of pounds in income has been lost as a consequence of draconian measures like border closures," he said.
Rail operator Eurostar said it would "continue to increase the frequency of our services in the coming weeks" and that it was "ready to welcome more passengers on board".